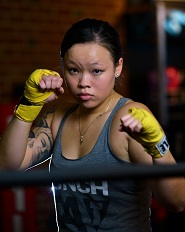 Silver Plan
Yoga Access
Our monthly yoga pass. Just $39/month gets you access to all our our yoga classes!
Diana started her fitness career when I was 16 years old by teaching Tennis to kids ages 5-16 and Senior Citizens in New York City Public Parks with the City Parks Foundation, a non-profit that provides free tennis lessons every summer and fall. When Diana turned 17, she began Boxing / Kickboxing journey where she immediately fell in love with the sports. She was blessed to have been taught by two World Champion fighters, Maurepaz "The Mambo Kid' Auguste, and Peter "F-16" Kaljevic. Diana was an Amateur boxer with a record of 12-2 and an undefeated Kickboxer with a 9-0 record. In 2012, she had made her way to the Quarterfinals of the NYC Daily News Golden Gloves, a very competitive Amateur Boxing tournament. Since suffering a concussion, she have found my place in Boxing as a USA Boxing Coach. In January 2016, Diana worked with Amy "Superwoman" Thomas and coached her towards a 3rd Round TKO in the Annual Battle of the Badges: Firefighter Vs. Law Enforcement Charity event
Diana Nguyen has over a decade of Personal Training and Fitness experience. She enjoys to help Life Changers find their true physical potential. She states, "I work hard to create an environment that is welcoming, fun, motivating, and effective". Diana goal as a trainer is to educate and inspire individuals to not only achieve their goals, but to exceed any expectations they may have of their capabilities. Through her knowledge of Exercise Physiology, Psychology, Martial Arts, and Fitness, Diana designs classes around core components that will benefit everyone. She loves to integrate Flexibility, Cardio, Muscular Endurance and Strength in all my classes.